A prominent character in last week's parsha
Lekh L'kha
is Hagar.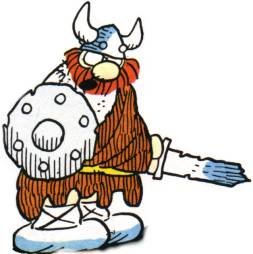 (No, not that one.)
(Wrong again.)
Of course I'm referring to the Egyptian woman named Hagar, who was the slave-woman of Abram and Sarai.
(That's better.)
When we read this parsha, we naturally focus on Abraham, Sarah, and Isaac their son of promise. But is it possible that we allow Hagar to get a bad rap? Blogger Yael thinks so. She highlights:
Hagar is the only woman other than Eve who is spoken of as having seed, otherwise seed is a uniquely male thing. I have also already mention about Hagar being the first woman in Torah to address God, but what I had not noticed is that she is the only person in Torah to name God! Can you imagine? A slave girl, not Noah, Abraham, Isaac, Jacob, nor Moses named God!
Read the whole article at Yael's Jewish World
...then feel free to share your thoughts in the comments section!